As a private hire driver in London, you are self-employed and driving as a career is like running your own business. When you run your own business, it is often good to check statistics of the industry you are operating in.
We've found some interesting statistics for self-employed private hire drivers in London. These statistics are from Transport for London and the figures are up to Sunday 15 January 2023.
Total Number of Private Hire Driver Licences (Drivers)
Total Number of Private Hire Vehicle Licences (Cars)
Total number of Private Hire Operators
Let's compare the number of Private Hire Drivers 🧍‍♂️ (licenses) for the last 10 years.
As you can see, in the last 10 years we saw a steady increase year on year, but since 2020 these numbers have started to drop. This is a positive, as drivers will potentially have more bookings available.
Current – 99,162 Private Hire Drivers
2020/2021 – 105,329 Private Hire Drivers
2019/2020 – 111,766 Private Hire Drivers
2018/2019 – 106,777 Private Hire Drivers
2017/2018 – 113,654 Private Hire Drivers
2016/2017 – 117,712 Private Hire Drivers
2015/2016 – 101,434 Private Hire Drivers
2014/2015 – 78,690 Private Hire Drivers
2013/2014 – 65,656 Private Hire Drivers
2012/2013 – 66,975 Private Hire Drivers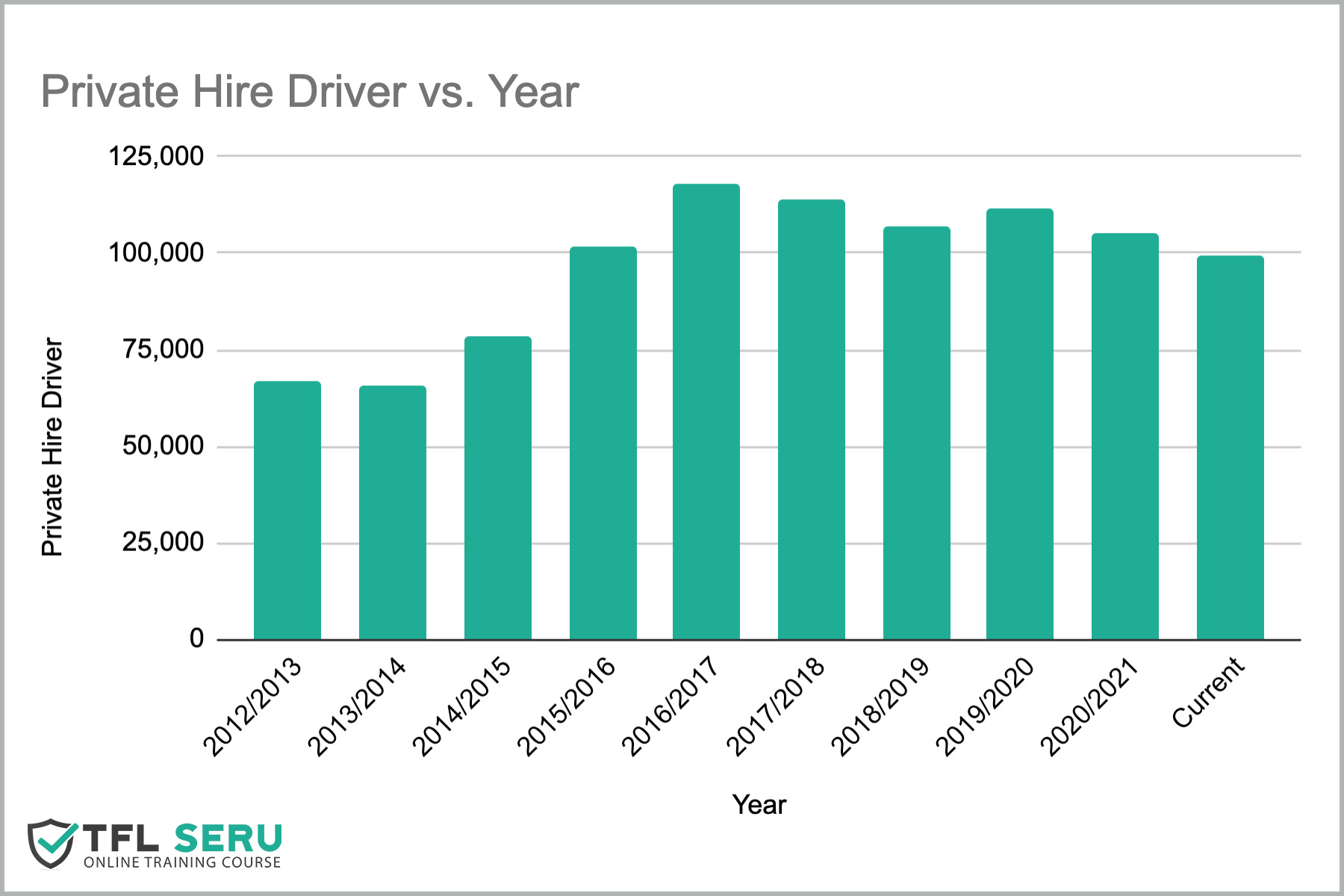 The number of Private Hire Vehicle 🚗 Licences from previous years are below:
There has been an increase in private hire vehicle licenses since 2021, this could be due to the new electric vehicle requirement 2023. Drivers have licensed their existing vehicles early to avoid the new rule which only allow zero emission capable vehicles to be licensed by TfL for private hire purposes.
Current – 90,034 Private Hire Vehicles
2020/2021 – 77,726 Private Hire Vehicles
2019/2020 – 94,712 Private Hire Vehicles
2018/2019 – 88,113 Private Hire Vehicles
2017/2018 – 87,921 Private Hire Vehicles
2016/2017 – 87,409 Private Hire Vehicles
2015/2016 – 78,139 Private Hire Vehicles
2014/2015 – 62,724 Private Hire Vehicles
2013/2014 – 52,811 Private Hire Vehicles
2012/2013 – 49,854 Private Hire Vehicles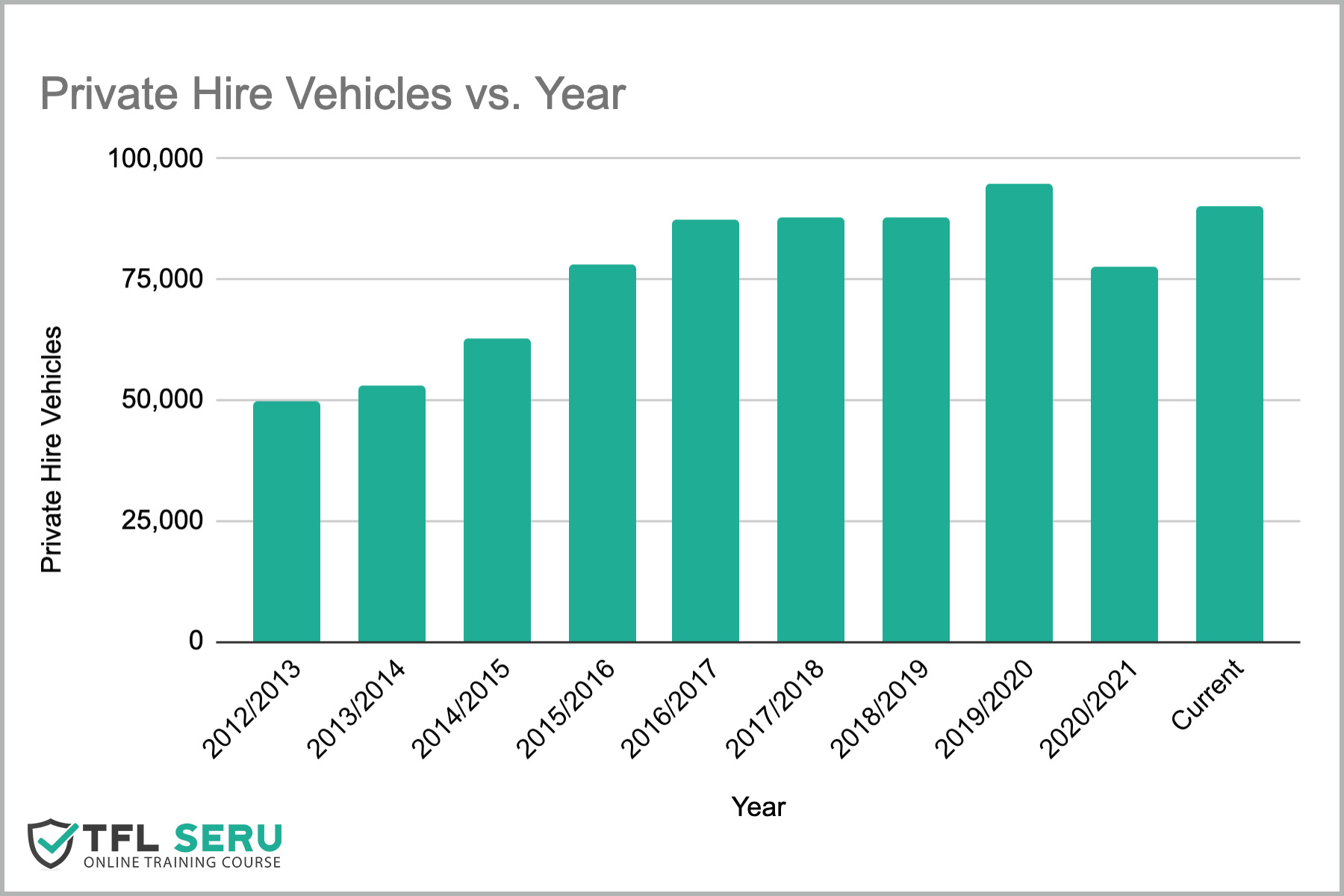 Lastly the number of Private Hire operators 🏢 in London
The number of private hire operators has been on the decline, this is mostly due to app-based operators becoming more popular and having the ability to take on more drivers and offer a simpler option to private hire drivers. Here are the statistics for the last 10 years.
Current – 1,615 PHV Operators
2020/2021 – 1,955 PHV Operators
2019/2020 – 2,133 PHV Operators
2018/2019 – 2,206 PHV Operators
2017/2018 – 2,373 PHV Operators
2016/2017 – 2,430 PHV Operators
2015/2016 – 2,814 PHV Operators
2014/2015 – 3,006 PHV Operators
2013/2014 – 3,038 PHV Operators
2012/2013 – 3,159 PHV Operators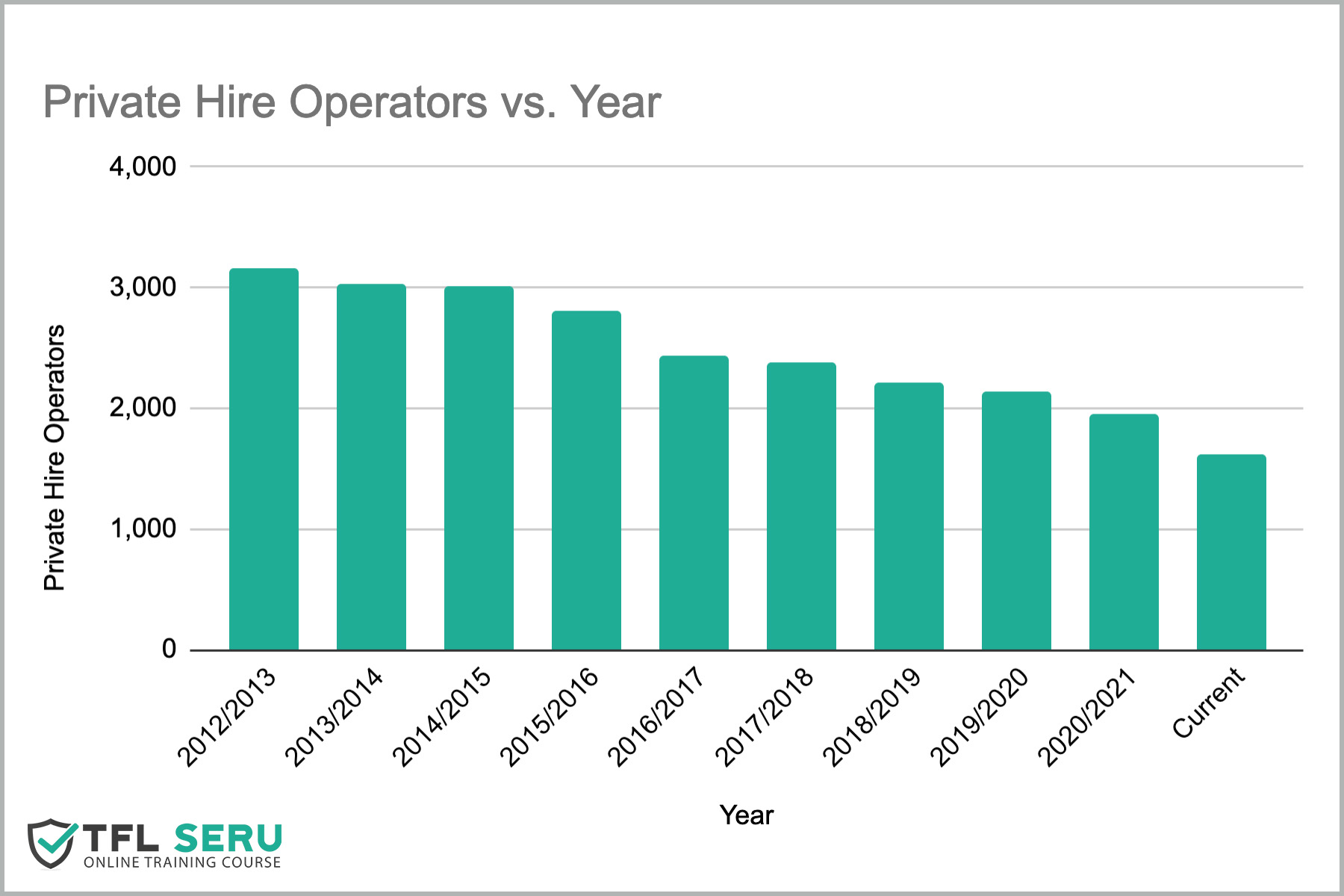 Did you know?
The Mayor of London is calling the government to provide further legislative powers to cap the number of Private Hire Vehicles in London. This would limit the number of private hire vehicles as only a maximum number of PHV's will be allowed to operate in London. We will keep an eye on the upcoming announcements and write more about this issue in the future.