The importance of training for the TfL SERU assessment by taking a SERU Mock Test.
As all private hire drivers at some point will have to complete the TfL SERU assessment, it is essential to prepare.  Most of the information on the SERU test are made up of things that all private hire drivers should already know, but as with most things, we all sometimes need a reminder.
To pass the TfL SERU test, you must complete an exam at a TfL centre.  The exam lasts for 45 minutes, and you must answer 37 questions in that time and in order to pass you must get 60% or more answers correct.
The 37 questions will be made up of 3 types of questions, firstly there will be 18 Multiple choice questions, followed by 2 Reading & understanding questions and 17 Drag & drop questions.  We'll break down what they look like below.
TfL SERU Multiple Choice questions (18 Questions on actual SERU test)
These are questions based off the 10 sections of the TfL PHV Driver's Handbook.  As the name suggests the question will have multiple answers to choose from, you will in most cases need to pick 1 correct answer. Do be careful though, some questions may ask for 2 answers, so take your time when reading these questions and select the correct number of answers.
Here is what a multiple-choice question may look like.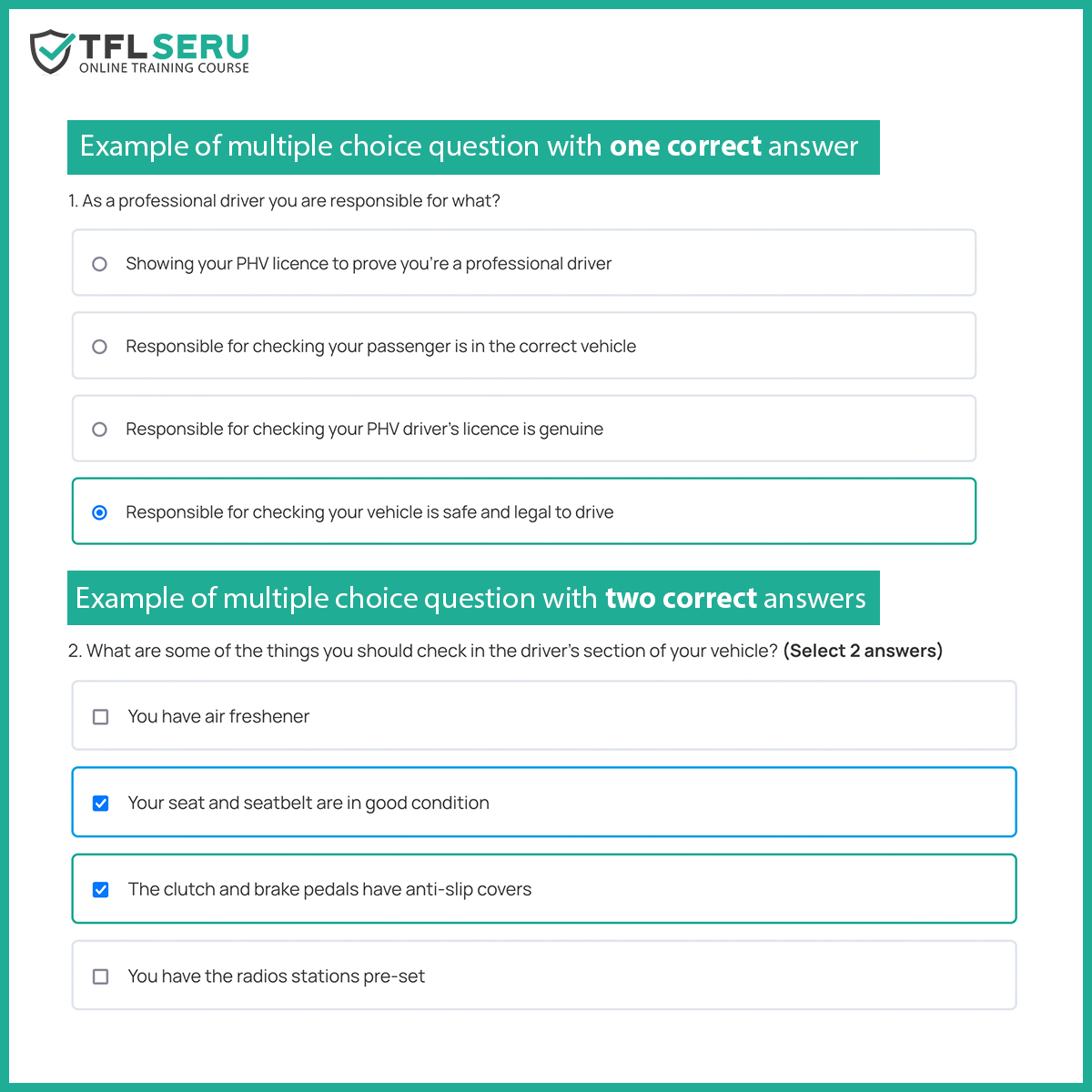 Reading & Understanding Questions (2 Questions on the actual SERU test)
Although just 2 of these questions will appear on the test, they are very important as these won't necessarily be based on any sections of the TfL PHV Driver's Handbook.  These questions are made up for a paragraph which requires you to read and understand, followed by selecting a statement that is true based on the paragraph you read.
Here is an example of a Reading & Understanding Question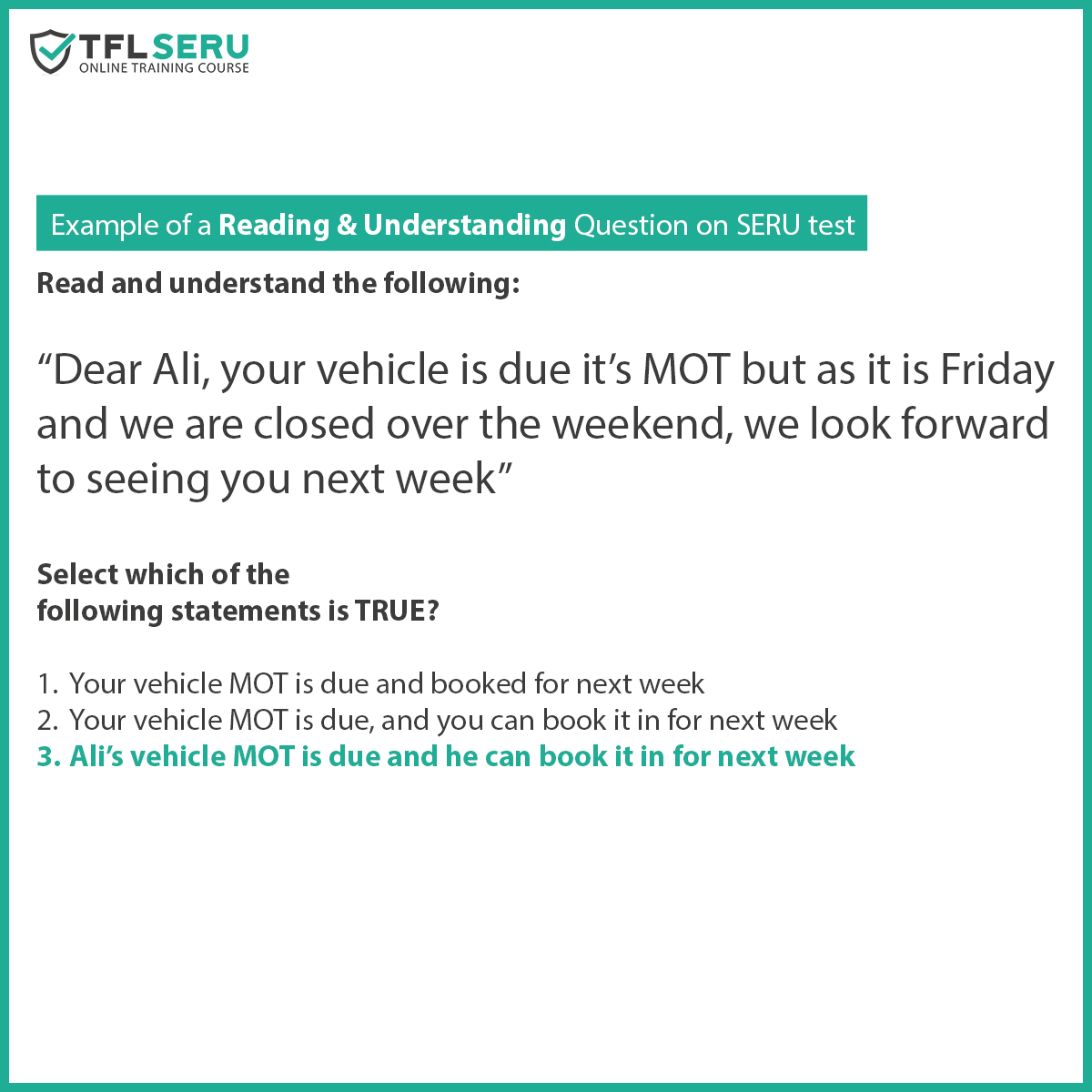 Drag & Drop questions on the SERU Test (17 Questions on the actual SERU test)
These questions are fairly easy but do take some getting used to.  Again, the questions are based off sections of the TfL PHV Driver's Handbook.  You will need to read a sentence which has gaps in it, the gaps will need to be filled with words which you can drag and drop from below.
A very important part of the drag and drop questions is that you make sure that any words that you didn't use are put in to the pink box before pressing submit.
Each sentence will have 3 words missing, you can choose from a selection of 6 words.  Make sure you check the spelling of the words as some words often have common spelling mistakes that people make.
Here is an example of what the TfL SERU Drag & Drop Question looks like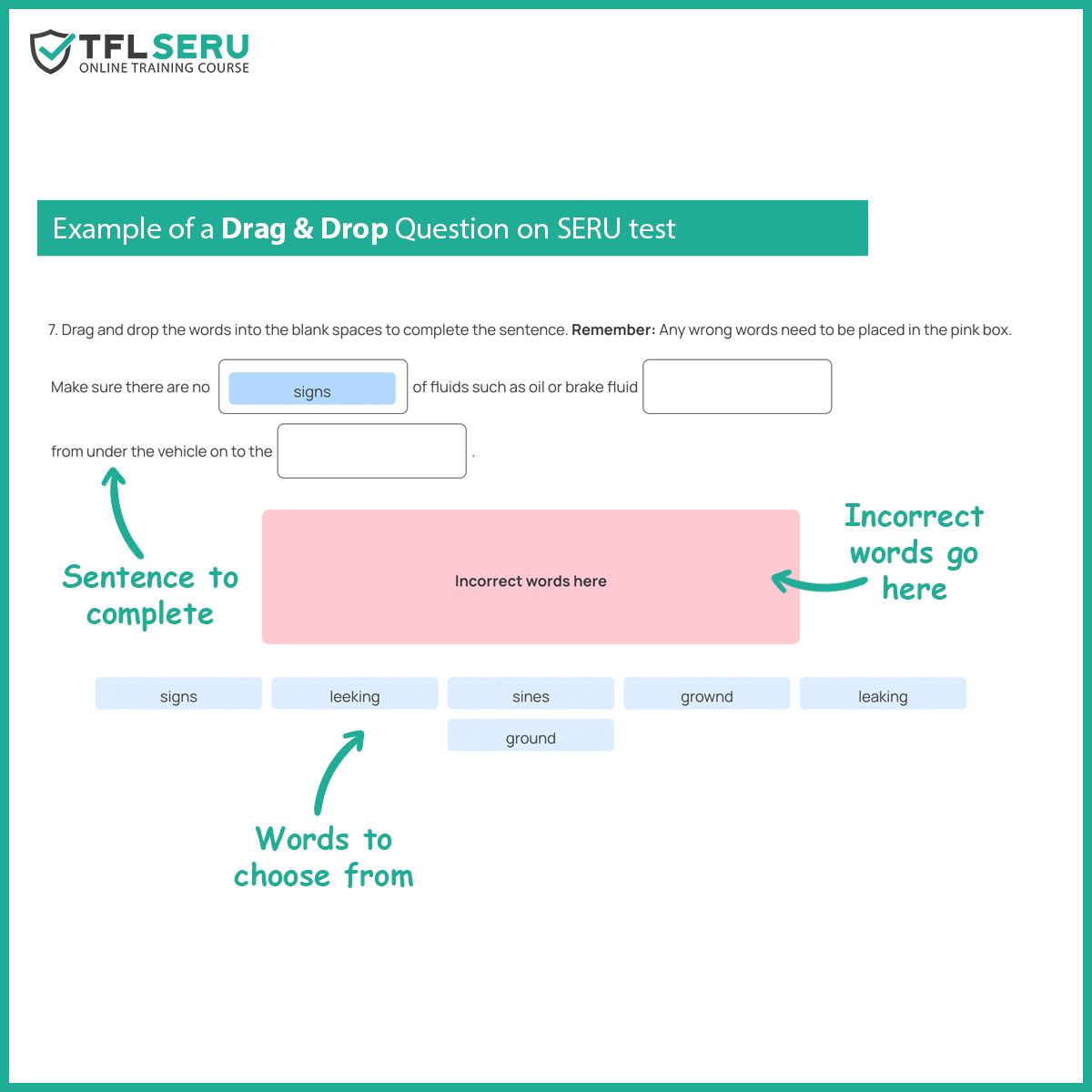 To get a real feel of what the TfL SERU assessment is like, we encourage you to sign up to our Online SERU training which comes with a timed mock test and real questions from the TfL SERU assessment.  By preparing for the test, you have the best chance of passing.  And by passing you secure your licence, save time and save money.